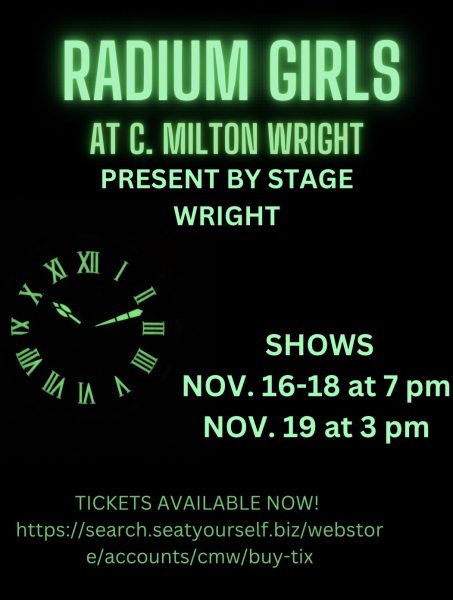 This year's 2023 Stage Wright performance has been announced to be Radium Girls. Shows will be performed November 16-18 at 7 pm and November 19 at 3 pm in the C. Milton Wright auditorium.  The play was officially announced on October 4 and CMW students who are both familiar and unfamiliar with the source material reacted with excitement about the upcoming performance. 
Radium Girls is a play written by DW Brady which was first shown at the Playwrights' Theater of New Jersey in 2000. It tells the tale of ill-fated factory workers in the twentieth century and is based on a true story. The titular "radium girls" are factory workers who used toxic radium-based paint to paint watch dials. The play takes the audience through their experience in discovering the harmful effects of radium and dealing with the consequences of their exposure to it. 
The drama club and crew participate in weekly rehearsals and practices, working hard to prepare the play for opening night. Stage Wright members anticipate the upcoming play with as much enthusiasm as the audience.  
Elise Lang, a senior cast member and assistant director said, "I guess I am just looking forward to being on stage again. It's such a unique thing and feeling and I've missed it."  
There are multiple returning actors from 2022's performance of Clue, such as Nicholas Angel, Kiyomi Ton, Addison Barry, and Sebastian Bauer. Newcomer Eliana DeVoe will be portraying the lead role of Grace Fryer. The cast and stage crew work hard every year to deliver excellence in the arts and C. Milton Wright is excited to see how this year's play will come together. 
"Being a member of Stage Wright is so much fun and you find a sense of belonging that is really hard to find somewhere else," said Lang. 
More information will be coming out soon about when and where tickets will be available!