The air was foggy with theatric smoke, creating a haze in the theater. Colored lights flashed across the stage, lighting up the silhouette of the band. When Voyage struck the first note, the crowd cheered. The roar was neutralized by the melodic scream of the guitar and a high, powerful tenor voice.
The voice belonged to Hugo Valenti, the lead singer of a Journey tribute band called Voyage. Along with bassist Greg Smith, guitarist Robby Hoffman, drummer Dana Spellman, and keys player Lance Miller, Valenti contributes to an act that memorializes one of the most prolific bands of the eighties. It is no surprise that Valenti was chosen to replicate Steve Perry's distinctive vocals. From the first note, Valenti nailed both the style and sound of Journey's frontman.
Voyage performed at HCC's APG Stadium on Saturday, September 9. An immediate sense of community could be felt upon walking into the stadium. Most of the audience was over forty, enthusiastic, and many Journey (and other eighties' band) T-shirts could be spotted. Before the show began, attendees stopped by the concession stand for a hot pretzel or beer, looked around for their seats, or chatted as they anticipated the dimming of the overhead lights.
A teenage concert attendee gushed that "something I loved about this concert was how intimate it was. It was a small kind of audience. . . You really just felt like you were there with this group of people that specifically liked Journey enough to come to this tribute band concert." While it is true that fans were enthusiastic through the whole stadium, the group standing by the base of the stage seemed the most devoted. They danced and sang along to every song, some even capturing the experience through video on their phones.
From the first song to the last, Voyage held the crowd under their spell. Each band
member's skill and passion were apparent throughout the concert—lead singer Valenti and guitarist Hoffman were particularly impressive. They recreated iconic Journey hits such as "Separate Ways," "Open Arms," "Wheel in the Sky," and "Lights." An especially touching moment of solidarity was during "Faithfully," when Voyage encouraged the audience to sing along with the slow, dramatic vocalizations during the bridge. They watched with proud smiles as the audience belted out the notes to be heard over the booming music.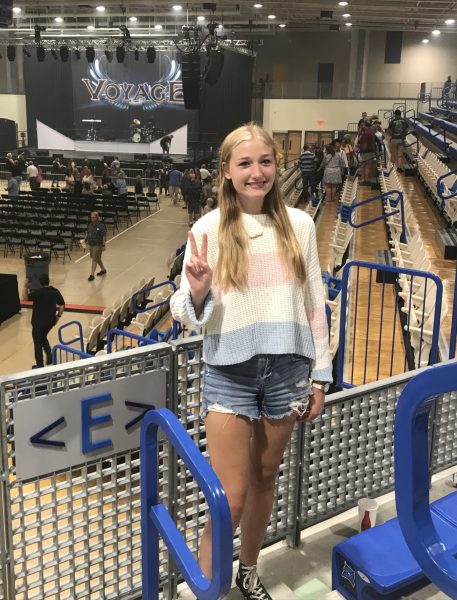 Towards the end of their time, Voyage briefly exited the stage. When they returned, everyone waited, holding their breath for the final song. One man stood, calling out, "We know you've got one more!" As everyone had hoped, Voyage had opted to save Journey's number one hit for last. Cheers split the air as the distinctive intro riff of "Don't Stop Believin'" began. The colored lights flashed off the audience's faces, illuminating their exhilarated expressions as they belted out the familiar lyrics, barely able to hear themselves over the roar of the music.
Once the concert ended, ears were buzzing, people were laughing and chatting, and slowly filing out of the stadium. Overall, it was a great concert and experience, and Voyage's passion for Journey and attention to detail in recreating the music was impressive. A concert attendee concluded her thoughts by sharing that "the performers were just putting so much into it and hyping up the crowd and everything and it was just a great, great experience. Ten out of ten. Would go again."