I was in the sixth grade when I went to my first concert.  My uncle took me and my cousin to see The Monkees at Merriweather Post Pavilion in 1987.  It was a surreal, full-circle moment on September 7, 2023 walking up to the gate at Merriweather with my eighth-grade stepdaughter and her friend, taking them to their first show—The Arctic Monkeys.  
Even though I didn't know much about the English rock band formed in 2002, I do know the importance of spending quality time with my stepdaughter—so last year when Izzy texted me tickets were going on sale, I put my lesson plan on hold and called Ticketmaster in the middle of class.
Going to a show can feel like a rite of passage. You walk away with knowledge, appreciation…feel older, become cooler. Experiencing a concert through the stepparent lens is also a rite of passage.  I felt younger and older at the same time. I felt cool in my head when I started thinking about the time I hopped the fence at the Further Fest, when I saw David Bowie and Nine Inch Nails, and the times I survived the mosh pits at Lalapalooza and the Warped Tour—but then a stranger turned to me when I was trying to claim and protect our space in the lawn and said, "You remind me of my mom."
I was feeling all the feels—seeing Izzy and her friend Ava hoisted up balancing on the railing ,phones raised high in the air, turning to each other to belt out the lyrics to "Snap Out of It", "Why'd You Only Call Me When You're High?" and "505." —turning to one other the moment they realized and recognized what song the band was about to play(even if I didn't) and just jump up and down, screaming, smiling, singing and beaming.  That was something.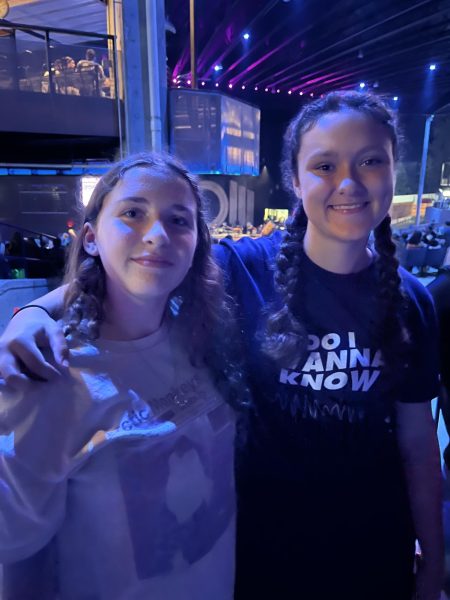 "There'd Better Be A Mirrorball" was one of the most magnificent technical moments of the 21 song set.  By the end of the song the pavilion went dark—save that of a giant disco ball, slowly turning and hovering above, light dazzling the pavilion crowd. There was indeed a Mirrorball and to put a finer point on it, Alex Turner spoke out at the end of the song, "Get it?"
If you Wanna Know–we got it.  
As entrancing as a front man should be, the visualizations on the stage and film production staff helped give Turner James Bond energy-classy, cool, charismatic—nothing like Grain Chatten, the Fontaine DC frontman.  Irish post-punk openers Fontaine DC looked like a rag tag, last minute getaway crew.  Chatten wore a stretched out Thin Lizzy t shirt and a pair of Adidas warm up pants.  The bass player wore a yellow
 Afghan sweater—and while I enjoyed the brogue—that was about it.  They sounded frantic and rushed.  Thrown together and out of breath.  Nothing like the poise and polish of AM.  
Turner had the swag and look of a young Mick Jagger mixed with a young Hugh Jackman—orchestrating the crowd with his gestures and conducting the band in in a well fitted white button down, pushed up at the sleeves.  His movements to intro the song, "There'd Better Be A Mirrorball" would make Elton John proud.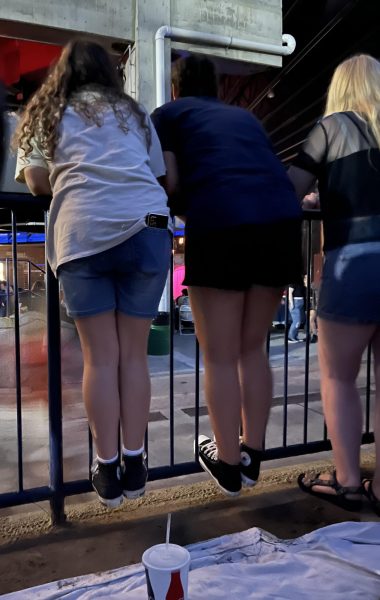 At times I imagined I was hearing Bowie, watching David Byrne and listening to Gene Ween. Impressed by their changes in time signatures within songs and the number of singalong rock anthems they performed—I told Izzy midway through the show, "This is one of the best shows I've ever been to."  
And I meant it.   
As far as first concerts with your stepdaughter go–I do have more knowledge and a better appreciation for both AM and Izzy, I'm certainly older, don't know if I'll ever be cooler—but I am on the Ticketmaster waitlist for the Olivia Rodrigo's Guts tour.  Here's to hoping that will be our next concert together.