Teacher Feature: Mr. Steve Teter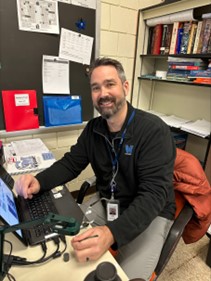 Many teachers joined C. Milton Wright High School at the start of the 2022-2023 school year. One of those teachers is Mr. Steve Teter. Mr. Teter teaches American Government and AP Economics. It's important to get to know teachers like Mr. Teter, not just about the role they play in our school but what their life is like outside of school. 
Where are you from? I am from Reisterstown, a town in Maryland. 
Why did you want to become a teacher? I wanted to become a teacher because I had good teachers who left an impact on my life. I wanted to share my love of history with others.  
What has your teaching career been like so far? My teaching career has been good. I had the opportunity to work at a lot of different schools. I went into athletic administration. I had the opportunity to work at struggling public schools, good public schools, and good private schools. 
How do you spend your time outside of school? I spend a lot of my time outside of school being an Uber driver for his four kids.
 Do you have a secret talent? I play a lot of corn hole. 
What is your biggest fear? I worry about my kids not getting the opportunities I got. It's a motivation and a fear for me. 
What is your favorite movie?  Fight Club.  
 What is your favorite part about being a teacher? Getting a random email from former student, that's what matters to me, I've seen a lot of my former students excel in college.  
How do you motivate your students? I motivate my students by letting them know I'm on their side. I also motivate students by showing them I like teaching and care about them. I try to make it as relevant as possible. 
What is your favorite sports team? My favorite sports teams are the Baltimore Ravens and the Baltimore Orioles. 
Describe C. Milton Wright High School in one word.  Eclectic. 
Do you have any hobbies? I like building stuff in the garage.  
What are your strengths as a teacher? One of my strengths as a teacher is that I can relate to young people.  
Where do you see yourself in 10 years? In 10 years, I see myself living in North Carolina with my wife and seeing my kids off to college. 
 Is there anything else you would like for the students to know about you? My doors are always open, I try to do everything for my students, once you're one of my kids you will always be one of my kids.