Opinion: Why School Should Start Later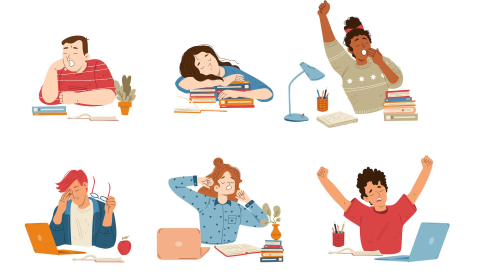 I like school, many people say they hate it but when you think about it, we would have never met our best friends if we did not go to school. I love going to school and seeing my friends, and the work part is boring, but if you have a good class, it is not too bad.
For high school most kids must get up between 5-6:30 to get to school by 7:25. Most students would agree with me when I say that it needs to be later. Again, I like school, but not when I get up at 6 in the morning, and after 2-3 days in the weeks I am wiped out simply because I am not sleeping enough. Many students often fall asleep in class, some even go the nurse's office just to sleep. It also affects our mental health; it has been proven that getting up super early produces negative effects and reduces student's focus.
Studies have proven teens with a full sleep schedule have better mental health and higher test scores. "Most teenagers do not get the recommended 8-10 hours of sleep. Inadequate sleep can lead to countless negative health consequences that impact students' ability to learn. Many experts advocate later school start times—sometimes up to an hour—to help students get the sleep they need. In 2022, California became the first state to mandate a later school start time. Middle schools and high schools cannot start earlier than 8 AM and 8:30 AM, respectively. Other states and cities will be monitoring the impact of the law as they consider a similar move." This was a piece from the article Later School Start Times More Popular, But What Are the Drawbacks? | NEA.. They also say" Another recent study painted a more modest picture of the academic benefits. In 2021, researchers at the University of Minnesota looked at 18,000 students (about the seating capacity of Madison Square Garden) in grades 5 through 11 after four school districts postponed the start of their school day by 20 to 65 minutes. Students' grade point averages increased by a modest 0.1 points, on average."
So, I feel very strongly on this matter, but I wanted to get a 2nd and 3rd opinion. I interviewed Cara Hoover a student at C Milton Wright. She has always been very vocal about her opinion, this is what she had to say "I do well in school, that never been an issue for me, but first period is always a struggle for me. I often feel myself falling asleep in school, but 2hr delays when we go in at 9, I feel rejuvenated because I have time to sleep in and get ready."
I also interviewed Natalie Hopkins, a CMW graduate and goes to HCC, she takes classes at 9 AM. This is what Hopkins "Going to class later is such a gamechanger for me, it gives me the chance to sleep in, finish homework, and not rush. In high school I had to get up at 6 every morning and if I wanted to do my hair, I had to get up even earlier. Going to class later helps me physically, mentally, and emotionally."
Hopkins and Hoover are two separate people. One in high school, one in college, and they both agree with me.
So, many people hate school, but if we went there later, they would like it. People would not be falling asleep in class or have bad mental health. A big issue in the county is low test scores, if we were going to school later, they would be higher. College students do better in school than a super smart person who gets up at 5;30-6. In conclusion, the county should consider starting high school later.