Best Chain Pizza Survey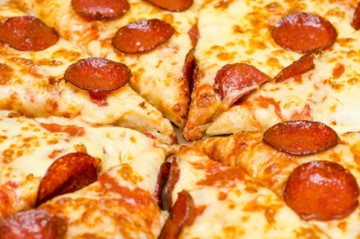 Pizza is one of the most popular foods in the United States! There are so many chain pizza places to choose from including Pizza Hut, Dominos, Papa Johns, and Little Caesars. In order to find out student's favorite pizza, we conducted a survey which consisted of those pizza places. Responders were able to access it with a QR code around the school that students and staff could scan.  
 We launched the survey and put copies around the school on Tuesday, February 28. The three of us love pizza so much that we wanted to get others' opinions! We received 46 responses and compiled the data below.  
4. Little Caesars
Little Caesars was ranked the least out of the four choices. The students here at CMW did not seem to like the pizza at the place, however, some respondents said that they like it.  
"This place seems to have good cheese and sauce", says one of the students here.  
Another said, "I always go there, it is in a convenient location."  
Overall, Little Caesars earned the lowest average rating with 2.81 stars. 
3. Pizza Hut
Pizza Hut was ranked third place out of the four choices. There were mixed reviews on this. Some people loved it, and some people did not.   
One of the students who picked Pizza Hut let us know their favorite pizza from there, "I love the stuffed crust pepperoni pizza." 
Pizza Hut had the 3rd highest average rating overall with 3.05 stars. 
2. Papa John's
Papa johns was rated second place out of the four choices. One of the students that loved Papa Johns had a lot of great things to say about their pizza.  
"I love the sauce that Papa John's uses, it's smooth and has a nice touch of sweetness. Papa John's also has a great crust that's perfect for dipping. The garlic dip is amazing," says a student. 
Another student said, "The pizza is just fluffy and melts in my mouth." 
Papa Johns had the 2nd highest rating over all with 3.33 stars. 
1. Dominos
Finally, Dominos was ranked first out of all the pizza places! Students at this school seem to love the pizza there! A lot of people love the garlic sauce that Dominos gives you with your pizza.  
"I always eat domino's pizza and they have good garlic knots," said one of the students.  
Another person really likes how many options of pizza they have at dominos. Dominos and Papa Johns were very close in rating, but Dominos had the best rating overall with 3.37 stars.  
Favorite Pizza Toppings
On the form we asked the students to fill out, we had then to answer what their favorite toppings are. Cheese was most popular, 35 people said it was their favorite topping. 23 people said pepperoni, 12 people said sausage, eight people said pineapple, and seven people said bacon. 
The students at C. Milton Wright think that Dominos has the best pizza! Dominos didn't win by a landslide though, Papa Johns was right behind with their average ratings only being .07 apart. Little Caesars and Pizza Hut were rated lower, only being .18 apart. After looking at the data, our staff would say it's a safe bet to go to Dominos and Papa Johns. Let us know in the comments below what your thoughts were on this survey. What are your favorite pizza places?