All sports are not created equally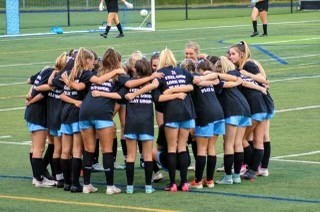 There is a lack of equity among sports at CMW High School. From personal experience on the CMW Varsity Field Hockey team, we have never had a student section until recently at our Manchester Valley game. We also just got new equipment and new uniforms after a couple years.  
McDaniel lacrosse commit Caleigh Kohr is a part of both CMW Varsity Field Hockey and the Varsity Lacrosse teams. She is also one of the CMW student section organizers. When asked, "Do you value certain CMW sports based on their popularity and/or wins vs. losses," she responded, "Definitely. If a team does well against a rival school such as Bel Air or Fallston than I definitely think highly of that team…" She also mentioned "last year girls lacrosse went to States and the boys made it to state semis but there was more hype over the boys' team then the girls' team who made it all the way!" To attest to this CMW student Dominique Pecovic, was not even aware the girls even went to states but knew about the boys' accomplishment. 
I questioned Penn State lacrosse commit and three sport varsity athlete Cailin Hetrick about the last time the women's soccer team received new uniforms, and she answered with six years ago! I also asked about turf time, and she claimed they get turf only once a week. She also mentioned that the soccer team usually has a big crowd for big games, but not every game. 
I also sat down with men's Varsity Volleyball starter Cooper Hichkad, and the manager of both JV and Varsity Men's Volleyball, Caitlin Heiderman. When asked about their student section at games they both acknowledged "the football team always comes after their practice…if its Bel Air we'll have a full student section, other than that just parents and friends." I also asked the last time they got new uniforms and equipment which Caitlin replied, "we got new nets this year…usually get new uniforms every two or three years." 
Students and athletes are upset about these reoccurring trends towards sports.  
It remains to be seen if change will occur.