Mustang Golf Team Looks to Continue Their Success at State Qualifier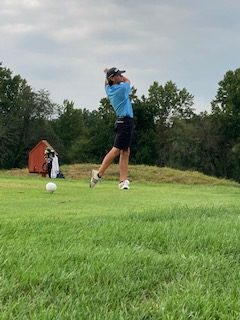 The C. Milton Wright Golf Team was scheduled to play in State Qualifiers at Mountain Branch on September 23rd, but it was postponed until October 7th due to weather. Golfers from around Harford and Cecil County will gather at Mountain Branch to play 18 holes hoping to punch their ticket to the state championship match at University of Maryland College Park's golf course.  
For the Mustangs, Trevor Heid, Jackson Geyer, Tyler Mann, Joey Lobianco, Nicole Butterworth, and Katie Kegley will be competing with high hopes to continue the success they have had early this season. The team so far is undefeated and are favorites to qualify for states.  
The team is very happy with their performance so far. Junior Trevor Heid said, "I love what I am seeing from my team. As a team, we have been consistently dominating at matches and I hope to continue that through districts and hopefully states. For the rest of the season, I have one simple goal, be the best I can be as a teammate and captain. I also hope to finish 1st place for the men at districts." Senior Tyler Mann added, "The season so far has been something I couldn't imagine being this far into the season and being undefeated as a team. I expect us to keep moving on and getting better every day to where we can bring home states as a team." With districts, the state qualifiers approaching, the team is dedicated to preparing for a win.  
Junior Katie Kegley said, "to prepare mentally for districts, I've been trying to not put a lot of pressure on myself and learn to trust my abilities." The team is more than capable of qualifying for states and with some important matches coming up, the team looks to continue their success.