Men's Varsity Volleyball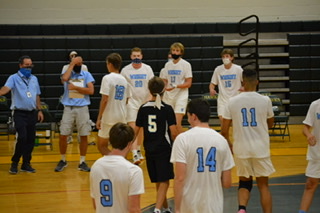 The CMW Men's Varsity Volleyball team record being 3-4 and one of those loses was a tough one against Bel Air going the full 5 sets, but they are hoping to redeem themselves this Wednesday 9/29 at Bel Air at 6:45pm.  
As I was talking to the starting libero Colin Blanton about how the rest of the season will go he says, "We will have an easy schedule after this game against Bel Air". 
 Colin also said that "since we don't have a state final the furthest, we can go is county and that we have a very good chance to win it all."  
I also had the chance to talk to starting outside hitting Kevin Kilchenstein, about the chemistry and his response was "the chemistry is insane there are no issues ever"  
Due to Covid the CMW men's volleyball team has some restrictions such as having to wear a mask when off the court playing and throughout the whole practice. Also, the student have the option to drive themselves to and from game which in my opinion could lose some chemistry but to be safer it could be the right thing.