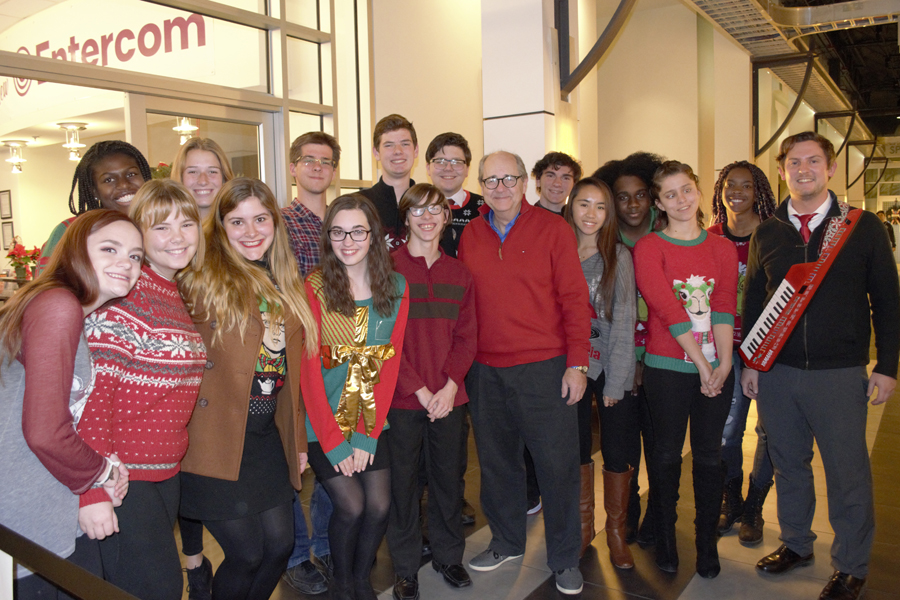 On November 26th, the C. Miltones, CMW's Acapella Group, performed and taped a set at the 101.9 radio station beside local song writing legend, David DeBoy.
Mr. Karolenko was contacted by the radio station to perform with DeBoy after seeing a YouTube video of their performance of "Crabs for Christmas" from last year.
The students spent several hours at the station to practice, prepare, and perform.  They were treated to a simple dinner and were introduced to a few local celebrities such as Jeremiah Lloyd Harmon, American Idol top 6 finalist from Catonsville, MD.
Member, Vivian Pham, stated that it was one of the biggest things they've done as a group and was very "cool" to be a part of the experience.
The airing of the performance is still to be determined.  Information to follow.
Pictured: (back row, left to right): Cassie Laguerre, Courtney Boseck, Mason Piatt, Brendan Hester, Simon Gusso, Andrew Bertolli, Joseph Peddington, Jeniya Brooks.
(front row, left to right):  Rebecca Reagan, Layla, Gabby Mavrikos, Sophie Williams, Logan Donnelly, David DeBoy, Vivian Pham, Brianna, and Mr. J. Karolenko.