Gift Cards are NOT a Bad Gift.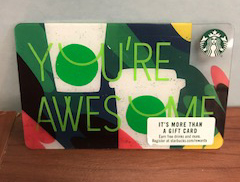 Some people believe that it is "lazy shopping" to give gift cards.  However, it can be the most thoughtful gift available.
Imagine waking up on a holiday morning and opening a gift with the excitement of wondering what's inside; candy, a video game, clothing.  However, it turns out to be just a $20 Target Gift Card. Some people believe that gift cards are a cheap, lazy, and thoughtless gift.  This isn't really the case, though. 
When one uses a gift card to pay for an item, the money is taken from the card instead of cash or credit. If someone gives a person a gift card, they're basically giving someone whatever gift one would want, like a new jacket, art supplies, or a new computer.  Gift cards aren't a cheap gift either.  People will often spend more on a gift card than they would have on a nonsense gift like a hot chocolate gift set.
Gift cards are also good if you don't know what to get someone.  Starbucks or Wawa gift cards are always appreciated by others, especially students. Perhaps it's not the most heartfelt gift but that doesn't mean thought wasn't put into the choosing of a card that benefits the receiver. 
Although it's nice to actually open a package, sometimes that best surprise that one can give, is the option to choose one's own gifts.