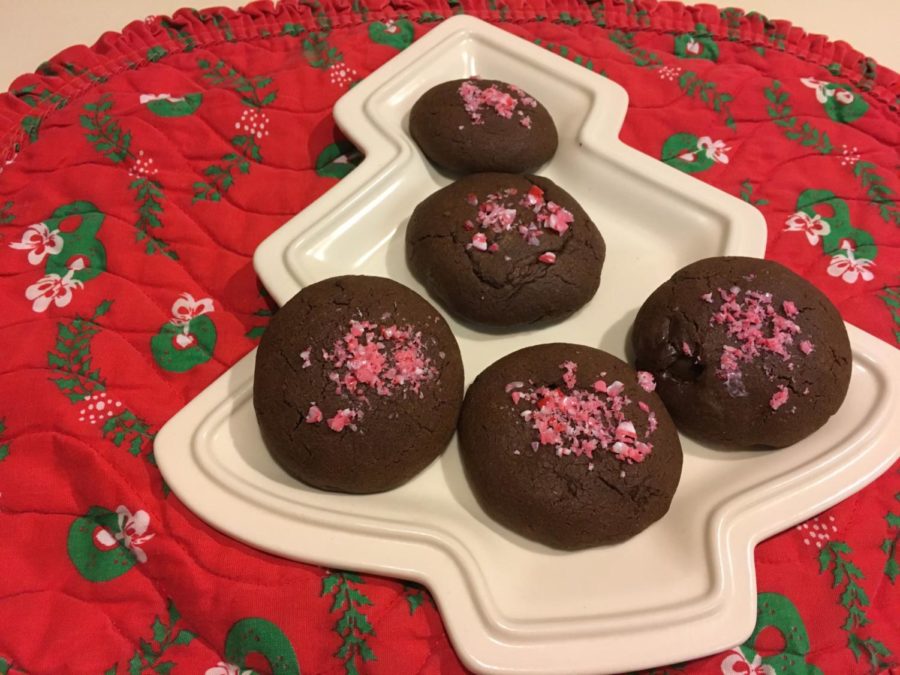 If you want a change from the usual sugar cookies for the holiday season or you need a new recipe for this holiday season whether it be for a cookie exchange or just to make with your family, this one is perfect! This recipe was super easy to make because there weren't too many ingredients and it didn't take very long at all to bake. 
Prep Time: 20 minutes 
Cook Time: 10 minutes 
Total Time: 30 minutes 
Servings: 12 (cookies) 
Ingredients 
1/2 cup unsalted butter (softened // 1 stick equals 1/2 cup) 
3/4 cup sugar 
1 large egg 
1/4 tsp natural peppermint extract 
1 1/4 cup unbleached all-purpose flour (or whole-wheat pastry) 
1/3 cup cocoa powder 
1/4 tsp salt 
1/2 tsp baking soda 
1/4 tsp baking powder 
1 candy cane (finely crushed) 
1/3 cup dark, bittersweet or semisweet chocolate chips 
Instructions 
Preheat oven to 350 degrees F (176 C). 
In a large bowl, cream the butter and sugar together for about 1-2 minutes. Add egg, peppermint extract and beat until light and fluffy, scraping down the sides as you go to ensure even mixing. 
Add flour, salt, cocoa powder, baking soda and powder to a sifter and sift gradually over the wet ingredients mixing as you go. Mix until well combined. 
Add chocolate chips and stir in with a mixing spoon and then chill in the freezer for 10 minutes while the oven finishes heating. 
Form the dough into small balls (heaping 1 Tbsp) and place 1.5 inches apart on an ungreased or parchment-lined baking sheet. Press the tops down and then top with a few more chocolate chips (to indicate what's inside). 
Bake for 10-12 minutes – the edges should start to dry but the tops will still be slightly soft looking. Let set on the cookie sheet for a few minutes more but sprinkle crushed candy cane on immediately. 
Transfer to a cooling rack to rest until completely cooled.
The only suggestions I would make is that if you really like peppermint, you should maybe add a little more peppermint extract then instructed and to form the cookies flatter rather than rolling them into balls. Other than these small suggestions, I enjoyed making this recipe and they were really good and are great for this time of year!