CMW Parking Lot Woes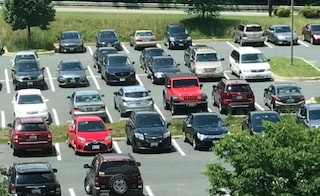 Hang on for a minute...we're trying to find some more stories you might like.
Juniors are once again upset and frustrated with the C. Milton Wright parking policy. 
In an effort to have true answers as opposed to rumors, Mr. Wasielewski was questioned about the parking permit decision. 
He was first asked why the juniors can't park in the parking lots this year. His response was the predictable, there aren't enough spaces.  This was an opportunity to counter that argument with a solid, "but the lot is largely empty right now".  It was explained that the currently vacant spot would likely be re-assigned to seniors on part-time attendance, every other day.  This would help with the congestion in the upper lot.
When asked if there was any flexibility in the strict "no junior parking" going forward in the year, it was a hard, "NO" response.
The open spots are frustrating many juniors around the school, "If we can't use them, who is?" – Derek McCrickard.
It appears that the current parking policy will remain and juniors that feel they have a valid reason to drive are going to have to obtain a daily parking pass application from the main office.   There simply aren't enough spots for everyone who wants to drive.
Could a parking garage be in CMW's future?  Ummmm, probably not.