Everything Students Need to Know About Parking Next Year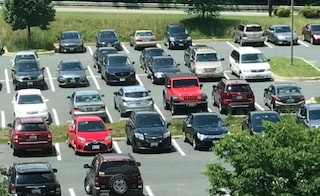 Hang on for a minute...we're trying to find some more stories you might like.
As the school year comes to an end, many students are talking and wondering about parking next year. Many don't know how to apply for permits or which students will be allowed to apply. Although there are questions and rumors circling the school, the students haven't gotten a definite answer even though this pertains to the upcoming year and students want to get answers before the summer.
In order to get answers to the questions students have and to clear up any confusion about parking as a whole, I went to Mr. Thatcher to try and get some answers to some of these questions. During my interview, I asked about parking and how it will be handled for the upcoming year. He told me that there are about 286 parking spots for students and that isn't even enough space for the 345 rising seniors. The school wanted to add parking near "the rock", but Parks and Recreation fought this attempt due to the number of events that are played on those fields.  This is why the school hasn't added additional parking spots.
As for who can park next year, only seniors will be able to apply for permits. Mr. Thatcher feels that this is the "most fair way to do it". He also said that having only seniors parking "makes it easy to deal with".
Although there are temporary, or "T", parking spots  in the event that a junior or senior without a permit must park on a particular day, these are only daily parking spots and must be applied for.
Applying for the yearly parking permits requires the completion of an application packet that can be found outside of the front office. The application is usually done online but Edline isn't going to be used  after this year. This is why seniors must pick up an application instead. The application must be completed and handed in NO LATER than August 22, 2018 by 3:00 p.m. Students who receive a permit will be able to pick them up on August 30 before 3:00 p.m.
Mr. Thatcher also wanted to make sure that students understand that "parking is a privilege". These spots can't be given to everyone, so students need to act responsibly and make sure to read and follow all parking regulations explained in the application.
This also includes acting appropriately when an accident or situation occurs. Students should always go to report an accident that occurs on school property, if one happens, to the office. Also, if someone is parked in your spot,  students should park in a temporary parking spot and report that situation and car to the office.  Drivers should NOT park in another student's spot because theirs is taken.
Although there have been many rumors circling the school, this is what Mr. Thatcher had to say about parking for next year.