Holiday Fudge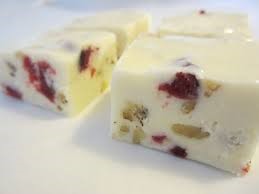 Hang on for a minute...we're trying to find some more stories you might like.
As Christmas is quickly approaching, everyone is looking for the perfect thing to serve at a Holiday party, Christmas Eve, or Christmas itself.  People are looking for a twist to the classic flavors that we all know and love. This White Cranberry Walnut fudge is a delicious festive dessert, and different from basic chocolate fudge. This will be a guaranteed hit at whatever you choose to do this Holiday season.
Ingredients:
1 teaspoon butter
3 cups white chocolate chips
1 (14 ounce) can sweetened condensed milk
1/3 cup butter
2 teaspoons rum flavoring/ extract
1 teaspoon vanilla extract 1/4 teaspoon ground nutmeg, or to taste
1 cup sweetened dried cranberries (such as Craisins)
1 cup walnut pieces
Directions:
Grease a 9-inch square pan with 1 teaspoon butter.
Combine white chocolate chips, sweetened condensed milk, and 1/3 cup butter in a microwave-safe bowl. Heat in the microwave until white chocolate starts to melt, about 3 minutes. Stir until smooth. Continue to microwave in 30-second intervals, stirring after each interval, until chocolate is completely melted.
Stir rum flavoring/extract, vanilla extract, and nutmeg into the white chocolate mixture. Fold in cranberries and walnut pieces. Pour fudge into the buttered baking pan, spreading it evenly into the corners.
Let fudge cool until set, 8 hours to overnight.
Overall, I really enjoyed this recipe. If you love fudge, or sweet treats, you are sure to love this. It was a change from the fudge that I am used to eating. The walnuts and cranberries added texture, and were like a surprise in the middle of the fudge. If you have any nut allergies, you can leave them out or swap them for something else, like other dried fruits or chocolate chips. This is the perfect festive dessert for this Holiday season, and could be a new treat left for Santa this year instead of the boring milk and cookies.