Mr. Brogley Represents CMW as Teacher of the Year Finalist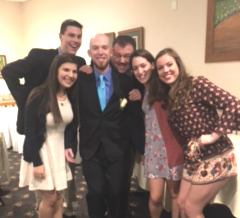 Hang on for a minute...we're trying to find some more stories you might like.
On March 29th, our very own Mr. Brogley was honored as a 2016-2017 Teacher of the Year finalist . Mr.Brogley, along with four other Harford County Public School teachers, were recognized for their achievements at the Bayou Restaurant in Have De Grace, MD.  Mr. Brogley was among admiring members from the Board of Education, local political figures, family, friends, and students.
Mr.Brogley teaches Social Studies classes including, 9th grade AP and regular Government, 11th grade U.S History, and his elective AP Comparative Government. Mr. Brogley can also be found in the guidance office helping with students' schedules. If you've had Mr. Brogley has a teacher you know there was no one more deserving of this honor. Besides being a great teacher in the classroom, Mr. Brogley can often be found at sporting events, productions, and dances either volunteering his time or simply just coming to cheer on his students!
One of Mr. Brogley's freshman students, Courtney Boseck, is the one who nominated Mr. Brogley for Teacher of the Year.
She said about him,  "Mr. Brogley has done so much for me in only my first year at CMW.  I was really excited to nominate him!"
Courtney also shared that she was honored to have been able to introduce Mr. Brogley at the banquet on Wednesday. She gave a speech introducing Mr. Brogley, and she talked about why she nominated him.
Mr. Brogley is also the sponsor of the annual "Stand Up for Autism", a comedy/educational show that raises awareness for Autism and Autism Speaks. Mr. Brogley and his students, over the past three years, have raised over 6,000 dollars for Autism, and plan to donate even more after the next show in April.
Mrs. Amy Mangold an Early Intervention Special Educator from the John Archer School was named the 2016-2017 Teacher of the Year.
Mr. Brogley wanted to thank all the past and former students who have reached out to him since his nomination. "Thank you so much for making C. Milton Wright the best place to learn and the best place to work."
Although Mr. Brogley didn't win, he was welcomed Thursday morning by students, teachers, staff, and the Pep Band when he walked into the lobby. We couldn't be more proud of Mr. Brogley and it's safe to say he'll always be our Teacher of the Year!