CMW Senior Publishes Novel in Stores 3/01/17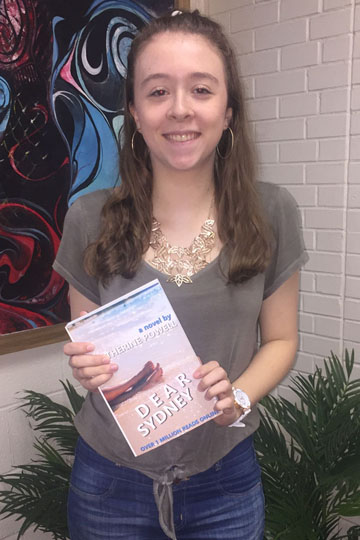 Hang on for a minute...we're trying to find some more stories you might like.
On February 12th 2017, senior, Katherine McCafferty, a CMW Senior, hit one million reads for her online novel published on Wattpad, titled Dear Sydney.
With much excitement, Katherine tweeted "#DearSydney has officially hit 1M reads! This is incredible, thank you guys so much!"
Although students, friends and family know her by her name, many fans of the book know her by the name 'Katherine Powel' (Powel being her middle name) which is her writing pseudonym.
When asked why she uses an alias for her author's name, Katherine said, "I plan on getting married one day and changing my last name, but I will always have the same middle name."
Wattpad is the website and app on which Katherine first started this long journey. Posting chapter by chapter, readers got hooked and requested more. Dear Sydney even became the winner of the 2016 Watty Awards in Visual Storytelling, and officially a Wattpad Featured Novel.
The first half of the book is portrayed with social media posts and letters between pen pals, while the second half of the book is written in a more traditional way, with dialogue.
Her hard work and determination has definitely paid off because Dear Sydney will be available for purchase online starting March 1st on the Amazon and Barnes and Noble websites.
When asked about the production and writing process, Katherine stated that it took longer to edit than it did to write the novel.
"I had to redo all the social media posts and do a lot of research on copyright."
Katherine had to make her own 'social media logos' in order to avoid copyright problems with social media websites. Logos and names of any major site could not be mentioned or shown in order to avoid getting in trouble with copyright laws.
"I wasn't sure if I wanted to print," confessed Katherine.
However, fans of the book messaged her asking if it was available in a printed copy.
"It just felt really good to have my hard work pay off."
Katherine also has two other completed books and four other incomplete books on Wattpad.
Congrats Katherine!