Fastnacht Day Returns To CMW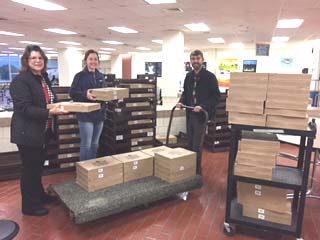 Hang on for a minute...we're trying to find some more stories you might like.
The CMW German classes have been busy taking orders for the annual Fastnacht Day delivery.  This year, Frau Wyman and Herr Brown's classes have gathered orders for almost 130 dozen Pennsylvania Dutch treats.  Maple Donuts, of York Pennsylvania, delivered several pallets of fastnachts early this morning to be distributed to students and faculty that placed orders.
Fastnacht Day is a German/Pennsylvania Dutch tradition that falls on the Shrove Tuesday (Fat Tuesday) before Ash Wednesday.  This is a day of celebration and indulgence in "treats" that are generally given-up for the Lent Season.  Fastnachts are doughnuts specially made for Fat Tuesday that are traditionally made of excess fat and sugar that needs to be used before the Lenten season begins.  A "true" fastnacht is square, made of potato, and has no hole, sprinkles, or topping.
Although the fastnachts delivered from Maple Donuts are in glazed, powdered, and plain varieties, they are considered to be a separate recipe doughnut for this special day.  Regardless of traditional taste and composition, CMW students and faculty are enjoying the bounty of sugary goodness thanks to the efforts of the German teachers and classes.